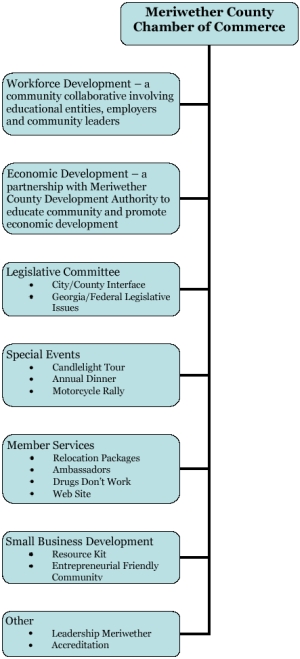 Member Services:  This committee's primary responsibility is to review the services that are available to members and identify service improvements.  Currently identified needs include review and update web site; prepare and develop method of distributing relocation packages; complete distribution of new county map.  
Member services also include a special team of ambassadors who maintains regular dialogue with members.  These are individuals whose primary responsibility is to nurture and sustain current members.  They communicate with them in a variety of ways; keep them informed about upcoming events; poll them about their needs and questions and develop a relationship with them. 
Workforce Development Committee:  The responsibility of this committee is to coordinate the work of multiple community entities around the need to improve the educational and skill level of our workforce.  It includes strategies to increase the high school graduation rate; work through the technical college to ensure a sufficient number of county citizens are credentialed as work ready; assist the technical college in implementing a career readiness track for high school students and work with the employment community to educate them on the advantages of making the work ready credential a component of their screening and hiring practices. 
Small Business Committee:  The role of this committee is work to help small businesses succeed in our community and to encourage new entrepreneurs to start and grow their business here. This committee is responsible for the Entrepreneurial Friendly Community initiative. Sally Estes serves as Team Leader.   
Economic Development Council:  A group who works with the Meriwether County Development Authority to attract new industry to the area.  The group meets periodically to hear updates on industry development and issues impacting industrial development.  Kip Purvis is the Chairperson. 
Legislative Committee:    The role of this committee is to represent the business needs of the community to legislators and to keep our members informed about local, state and federal legislation of interest to the business community.  Jeff Cain serves as Chairperson   
Special Events:  This Committee has oversight responsibilities for the several special events held throughout the year.  The Committee's primary responsibility is to select a chair for each of these special events and provide support to chair as needed.  These events include but are not limited to:  
Candlelight Tour Run:  This is a one mile and 5K run held once per year on the same Friday as the Warm Springs Candlelight Tour (November of each year).  It is an evening run.  Members could become involved by:
Preparing and serving refreshments for visitors
Ordering and distributing t-shirts
Ordering and distributing trophies
Securing door prizes
Securing sponsors
Being available on the night of the race to assist in logistics
Annual Dinner:  This is en event to which all members are invited.  It is held in the first quarter of each calendar year and is used to recognize new members; recognize new board members; review accomplishments and to announce any awards that are being given.  Members could become involved by:
Planning location and menu
Soliciting sponsors
Identifying speaker
Planning program
Coordinating awards
Coordinating door prizes
Motorcycle Rally:  This is an annual event held in the spring of each year as a fund-raiser.  Members could become involved by:
Securing sponsors
Marketing and promotions
Event logistics
Coordinating volunteers
Registration